Models
Larger Than Life 3D Models make models to create a show stopping piece at any event, exhibition or corporate occasion. We are highly skilled and very experienced in creating expertly crafted models tailored to meet your requirements and needs. Please view some examples of our work below and click on the images to enlarge.
Click on any image below for a larger version.
Whale tankers model
I spent a very wet and chilly day just photographing and measuring this lorry where it stands at their factory. They thought in their 40th year of production they would celebrate this by have a true representation of the first lorry ever built and sold.
We had to make the wheels (front and back are different) by turning them on a lathe, then milling out the side wall tread, applied the centre tread, wheel nuts, manufactures name etc and then took a mould to produce four rear and two fronts.

We delivered to the NEC for the Commercial Vehicle Show and helped set it up on their contractors turn table. After the show we were asked to pack it safely and set it up in their reception area back in Solihull.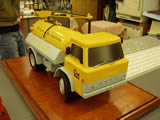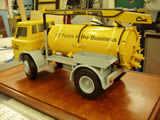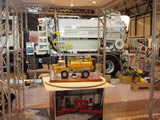 Brooks Saddle - Oversize Exhibition Model
This larger model is typical of the Exhibition side of the business.

The client wanted something to put high on a tower so they could be recognized from a distance. The main frame is tubular steel on which sits the leather effect saddle.

This is formed in Polyester resin and "themed" to look and feel like leather.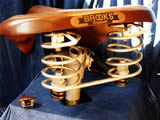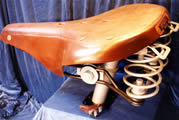 Brooks Cycle Gears - Oversize Exhibition Model
Their sister company were so impressed with the saddle they ordered a "Hub Gear".

This is the famous Sturmey Archer 5 speed gear which you may remember having on that old bike of yours when you were a bit younger. The original at the bottom is 4 inches
(100mm) in diameter. The model is 4 feet in diameter.

After travelling around the world twice it has been back to be updated to the new 7 gear model. Mmm nice!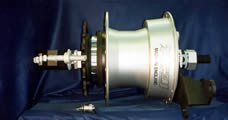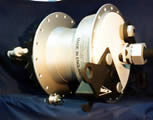 Laser Hall Model
The importance of this model only became apparent when I visited the site. Due to the experiments performed in this building you have to put on dust-free coveralls including shoes and hair.

Not the best thing to ask your guests to do so with this model they were able to show how the process works without interfering with the work schedule.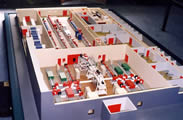 Giant Tape Measure
This measured up to the clients expectations!
A five foot high tape measure with thirty foot of tape coming out and going up the wall. The design agency supplied a sketch and the artwork we supplied the rest.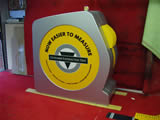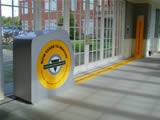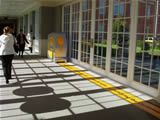 Large Computer Monitor and Keyboard
This was used to promote a new website. We had to make the monitor in three pieces because the only way to get it in position on the second floor was in the staff lift. It stands 6 feet high and the key board is seven feet long.
Oh and they had a sprinkling of snow on it for the festive season.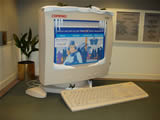 Cartoon Captain
Not much of a brief to this one at all. Just a prop for the inside of a "nautical themed shop".

With no drawings I resorted to the family album and inspiration took hold. Thanks Dad!


Roller Coaster Car
Being a car nut this project was a labour of love.

Built for a Dutch rollercoaster company, the plan was to see how the general public would take to the shape chosen and if they could get in and out successfully.

After the tests it has been put on display in the company boardroom.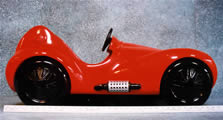 Architectural Model Refurbishment
A small job that's getting bigger.
We were asked to refurbish an existing model which had sustained considerable damage. As you can see we had to take this model back down to the basics and rebuild it.
We have now been asked to put proposals forward for a model of their new building which stands 130 meters high.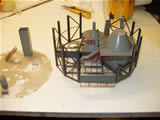 Wall Fixing - Oversize Model
A masonry fixing bolt. If you look closely you can see the "real one" on the MDF storage support.