Exhibitions & Interiors
Larger Than Life 3D Models produce exhibition displays and stands as well as exhibition models and pieces for events all over the country. We are highly accomplished and fully skilled just take a look at some examples of our work below and click on any image to enlarge.
Click on any image below for a larger version.
Despicable Me 2 3D Logo

It was good to produce a set of large letters that were going to be used more than once as we usually produce larger stuff in Polystyrene. These were constructed out of MDF and plastics to make them robust enough to be in the heart of the public domain.

This logo was on the corner of an exhibition stand to promote the concept of a sequel to Despicable Me. The designers, 4 Sight Design Ltd wanted the logo to be held up in the air by some of the film's most famous minions.

We had to devise a way to support the main structure without it being seen. This was OK as we used steel to support the weight and give it some rigidity. but then the actual word "DESPICABLE" had to "float" in the air, in an uneven line, as per the artwork. And to cap it all it... then had to be assembled In the USA by someone who didn't know anything about it!

The Despicable lettering was held together with a clear acrylic carrier and supported off the top of the main letters. We assembled the complete logo in the workshop and took photo's at each stage, made an assembly booklet with all the tools Necessary(IKEA style. Read: Muppet proof!) and even a can of touch-up paint and packed it all off to the contractors, Standfast Displays.

Feedback from the 4 Sight Design: Thanks Nigel, nice work – looked excellent and the client very pleased. Mark. Feedback from Standfast Displays:

"Hi Nige, Model Fantastic client (and even Mark) was over the moon!" There you go, happy, smiley faces all round









More Jet Engines

I think we can just about do these displays with our eyes closed! I don't actually know how many we have worked on over the years, so I guess it looks like we're getting it right.

This display was finished (just in time as you can see by the contractors wrapping it up as we leave!) for the Farnborough Air show.

It can be lifted onto the stand (with a forklift truck) straight from the shipping crate, dropped into position, fit a few extra (fragile) components and just plugged in. As you can see the acrylic rings just bring a little colour to the framework.





Concrete and Timber Themed Wall

This wall was designed by focal Exhibitions to display the client's range of rugged power tools. Spanning 5.5mtrs we constructed the main frame in two sections so it could be easily shipped to Germany for the exhibition. To allow the client to be able to choose where they wanted to place their products we had to construct the concrete section so there was enough flat areas to fix the
shelves too.

LED lights were fitted into the broken edges to add a little more light for the products.
We also modelled the free-standing plinths to look like fractured concrete pillars.





Tooth
We were sent this visual from the clients advertising campaign. They asked if we could replicate in a 3D model form for an exhibition, of course we could!
We also added blue LED lights that flashed in a sequence to simulate water splashing down and the head of the cutting tool rotating.
Wastepack stand
A simple exhibition stand, well finished and came in under budget for the client, who I hasten to add said "that's the best quality stand we have had in eight years of exhibiting"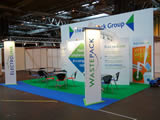 Victoria and Altert Museum (V&A) - Surrealism and Design

This was a most interesting project. We were asked to re-produce chairs, instruments, paintings with support arms and sculptures for a 1/3 scale model. The original gallery was designed and built by Frederick Kiesler in 1942 for Peggy Guggenheim. This 1/3 scale model was commissioned in the 1980's and toured the states. After being stored for some years it has been shipped over here and restored. All the fittings were in poor condition and so we re-manufactured from period photographs, drawing, sketches and samples supplied by collectors and the very helpful museum staff.

The chairs were originally made from timber and then Linoleum was shaped around them. At 1/3 scale you cant bend linoleum around such tight corners and you cant match the colour after 80 years!.... so we had to digitally print the colours to the museums satisfaction, and then scour the laminating industry for the correct surface coating to bond to the face to resemble linoleum.
All the pictures were to scale, printed onto canvas and stretched onto frames. We only had one black and white picture form a book to work out what the arms looked like. they had adjustable brackets to allow the pictures to be tilted towards the public.we designed a facsimile that worked at 1/3 scale.
And as for the two sculptures!!






Our "source" material




Finished project with occupant to show scale




Jenks Reception Area

This company had a very drab, disjointed reception area and they felt it did not portray a good image.
We did a site survey, took pictures and developed the ideas by talking to the staff.

We then produced visuals and supplied samples of the materials to be used for the client to see. They intern used these "flash boards" to show there work force. Feed back was good and so we proceeded to fabricate all the major components in our workshop.

The client could not afford to much "down time" in this area as the receptionist deals with post, deliveries, e mail and phone networks for a large workforce. Working closely with their in-house IT team we fitted the desk in first with all the networking cables under a raised floor. Then the acrylic display suspended on cables and the lighting pods aAnd lastly the deliveries and franking area.

Subsequently we have been invited back to replace the outdoor signage and lighting.




Before




After




Visualisation 1




Visualisation 2



Eastside Developments Model for Birmingham City Council
To launch the new Eastside Developments in Birmingham the city council commissioned a stand to be designed by their agency.
Due to the timing on this project ( 7 days to build,
2 hours to put-in and only 45 mins to take-out !) we could only have their sketches to work from.

We had to be sure that it would all go smoothly on the day, so we actually timed a "put up pull down" sequence so that any problems could be sorted before the launch.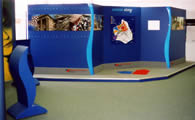 TRW - Reception Display
This company had spent a considerable amount of money on decorating their main entrance, but it was still rather dark and uninviting.
With what they had left in the pot they came to us for ideas. We produced this free standing display. To keep costs down we suggested that the apprentices get involved with the project. This they did admirably and provided motorized components to draw attention to their products.

After good reactions from visitors and their own workforce two months later we were asked back to develop an even larger unit to complement the other. This again involved key figures on the shop floor to take pride in their product and put forward components for display.

We have gone on to produce inhouse signage and work area displays for T.R.W.



Utilities Exhibition Stand
With a limited budget to do three small shows in one year, working with PHD we came up with a simple and easy to erect exhibition stand. The feed back from these shows was so good they invested in a larger stand (see third image) which gave them a private lounge, store room/kitchen, two work stations with plasma screens, and room for a 2 ton machine!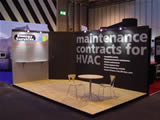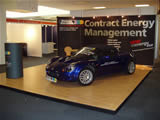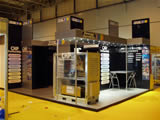 Garage 3000 - Exhibition Stand
A complete package.
We design, construct, paint, erect, carpet, finish,take down and store this stand for the client.
All they do is book the space and we do the rest. Mmm nice.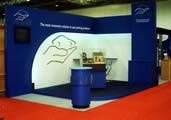 Medical Models - Syringe 1
The product you see here is free standing so the client can use it on shell scheme stands.
The finished item can be dismantled into a flight case for
shipping purposes.
The gentleman's identity has been withheld to protect the innocent!.





Medical Models - Syringe 2
They keep coming back. Three years later and a new product, so a new prop. It is very important to show to the Medical profession this new design, but with the real thing being only 15mm in diameter and 120mm long it was hard enough to show us. With this prop on their stand the sales team can easily talk their way through the operation and get straight to the point.







Themed Vacuum Formed Sheet
These are a selection of different styles and finishes we have created on vac formed sheet for shall we say different ends of the market?
The exhibition stand was at Max Power hence the grunge look.
In contrast the Martello tower was sent as a reference to work from for the Chelsea flower show.
We think you'd agree a close match from the clients sample on both projects.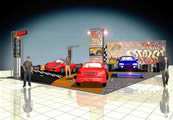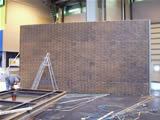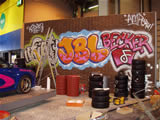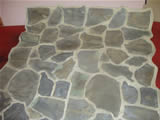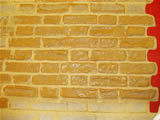 Lorry Exibit
The clients own idea. They needed to show the coupling points from the cab to the trailer. So we designed and built this generic lorry. It fits together like the real thing. On the one side we fitted large doors so the client could use all the space inside for storing literature and valuables. The client supplied the logo and artwork for the rear which we reproduced to size and applied.
Oh and the kids had some fun as well!